Composite deck contractors in Salem, Oregon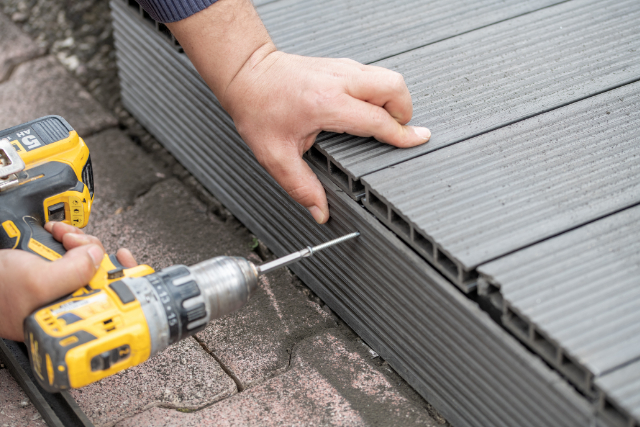 Composite decking is a superb alternative to wood. Little maintenance is required and it lasts long. Since its beginnings, the material has been improved dramatically to retain color and avoid wear and tear.
To put it bluntly, composite is the most popular decking material choice these days. Why? Manufacturers of composite decking offer an outstanding product that is durable, weather resistant, and closely resembles real wood.
Even better, homeowners enjoy little maintenance, and a host of color and design options when it comes to synthetic, PVC, and composite material.
Our team of deck contractors in Salem, Oregon have constructed hundreds of composite decks for both home and commercial business owners over the years. We are skilled, experienced, and also fully licensed and insured.
When installed professionally by our team, wood-alternative decks have a much longer lift than those made of traditional pressure-treated lumber. Many suppliers and manufacturers we partner with offer a 25- and 30-year stain and fade warranties.
Ready to get moving on your deck installation or replacement project? Contact our local company for a free estimate and affordable building options.
Why choose composite?
Composite and synthetic PVC decking material is popular for good reason. When building a new deck, they offer many advantages over wood. Consider these three bonuses:
Wood-alternative decks are much easier to maintain. They can be cleaned without much effort and do not require yearly staining or painting.

Composite decks have a wealth of color and design choices, not to mention realistic grain finishes that provide a natural look. 

Unlike wood, composite and synthetic materials are resistant to rot. The finish does not splinter, which makes for a product that lasts long and maintains its beauty and color for years to come.
Though these advantages are great, there is a higher upfront cost with composite compared to wood. However, these costs would be recouped in 4-7 years from savings on maintenance.
Our decking building process
Our process is straightforward and simple, whether we're installing or repairing your deck.
We schedule a free estimate that is convenient for you. This includes accurate and transparent pricing, no hidden fees, and a timetable for when work will be completed.
After you hire us, we begin the project. Once we start, we finish your project in a timely manner. 
Our philosophy is that when a project drags on, everyone loses. Bear in mind, though, that the process depends on weather and other conditions.
While working, we respect you and your property. We keep the job site clean. We do quality work that is completed properly, and always maintain a steady line of communication to keep you updated on our progress.
Want to learn more about what we do? Call us today with your questions.